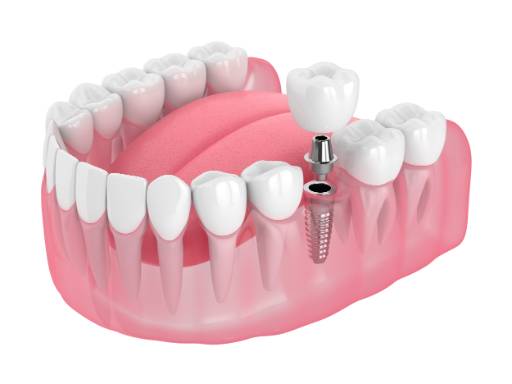 Dental implants offer a durable, long-lasting solution for missing teeth, closely mimicking natural tooth roots. They preserve jaw bone health, provide stable support for crowns or dentures, enhance chewing function, and improve the overall aesthetics of your smile for boosted confidence.
What Are Dental Implants?
Dental implants are a permanent, individual way to help replace missing teeth. The biocompatible titanium implant will be placed in the jaw to imitate a tooth root, then a prosthetic tooth crown will be placed on top, creating a beautiful and functional new tooth.
Smile with a Secure Foundation
Missing teeth come with all sorts of challenges beyond just appearance. Dental implants are one of the most effective ways to replace missing teeth because they address all the issues of missing teeth.
Preventing Misaligned Teeth
Missing teeth leave empty spaces in the mouth. Naturally, your remaining teeth will try to fill those gaps by shifting around to provide a unified chewing surface. This can create alignment and bite problems.
When a dental implant is placed, it prevents other teeth from shifting into the space and therefore maintains your current tooth alignment.
Preventing Cracked or Broken Teeth 
When a tooth is lost, the neighboring teeth now have to work harder to do their job to help chew food. This makes them wear out faster, often resulting in cracks that can spread to the nerve or root of the tooth. It all results in a downward spiral of losing more and more teeth over time. 
Preventing and Healing Jaw Atrophy
Healthy teeth are connected to healthy jaws! Without a full set of teeth, your jaw loses some bone density over time. This deterioration is called jaw atrophy. If left alone, the jawbone can dissolve away and lead to the loss of more teeth.
Dental implants are placed into the jawbone, so they provide the same stimulation that your natural teeth do. This can stop deterioration in its tracks, letting you keep a healthy jaw and mouth.
Do I Need Dental Implants?
You may consider getting dental implants to help you with the following:
Tooth Loss: Dental implants are often the best solution for replacing missing teeth. They mimic the look, feel, and function of natural teeth and prevent further oral health issues related to tooth loss.
Denture Stabilization: For those uncomfortable with the movement of traditional dentures, implants can anchor the dentures securely in place, enhancing comfort and chewing efficiency.
Bone Preservation: Tooth loss can lead to bone loss in the jaw. Implants stimulate bone growth, preventing deterioration and maintaining the structure of your face.
Cosmetic Enhancement: If an individual has a tooth that's severely discolored or misshapen, an implant with a dental crown can provide a flawless, natural-looking tooth replacement.
Restoring Oral Function: Missing teeth can affect speech and eating. Dental implants restore these functions by replacing the lost teeth effectively.
How Long Do Dental Implants Last?
Through proper care and maintenance, dental implants can last the rest of your life! The standard lifespan of dental implants is around 20 years. As long as you take good care of them, your implants will last you for years.
All-on-X Denture Treatment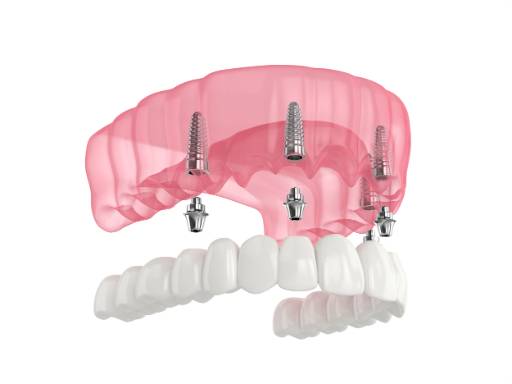 If you're missing multiple teeth in a row, or you already have dentures, you can still get dental implants. At Twin Peaks Family & Cosmetic Dentistry, we offer the All-on-X treatment. All-on-X uses a small number of implants (usually between 2 and 6) placed strategically along the jawline to support an arch of dentures.
You can get all the same benefits of dental implants with your dentures!
Oral Sedation
Our goal is to help our patients feel as comfortable as possible so they can get the treatment they need. We offer oral sedation to our patients with dental anxiety to let them experience a calm and relaxing dental implant procedure.
While implant placement is a surgical procedure, you don't have to be nervous. Talk to Dr. Butler about oral sedation if you are feeling at all uneasy about getting dental implants.
Learn How Implants Can Help You!
Twin Peaks Family & Cosmetic Dentistry is happy to provide dental implants for our patients who need to replace missing teeth. Call Dr. Butler in Longmont, Colorado, to help you get started on your treatment!